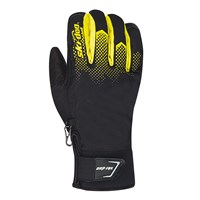 As the proud owner of a Ski-Doo, you are well versed in the overall quality and performance of this reputable brand for snowmobiling. When it comes to adding to your riding enjoyment in snowy weather, the vehicle is only part of the equation. In order to ride in comfort during even the harshest days of the season, you need the right Ski-Doo apparel for the ride. From pants and boots to jackets and tees, the right clothing can be the difference between a safe, fun ride and a miserable ride. We are proud to bring you a diverse selection of Ski-Doo apparel for your riding season.
When looking for the basics to start building your wardrobe, we have you covered with the basics of pants, jackets, and both base and mid layer clothing. These options help you create the right level of insulation to stay warm in even the most frigid riding scenario. Choose from important options such as thermal base layers, fleece mid layers, and outerwear jackets all made with the unique needs of snowmobiling in mind. For example, many of the options we offer for outerwear are made with moisture wicking material for a quick drying option in the cold, wet weather. The options for layering are lightweight so you don't feel like you are carrying too much bulk, but they are designed to help insulate body heat and trap it close to the body during cold rides. We offer a range of options for both men and women in several styles to meet your preferences with ease.
When gearing up with the right Ski-Doo apparel beyond the obvious layering essentials, the next most important options to add to your riding wardrobe cover the parts of your body easily left open to exposure which can be dangerous. With our selection of gloves, hats, balaclavas, and googles, ensure proper protection for the weather to often forgotten areas. From knitted hats and beanies to baseball hats when you want to represent your favorite brand, we have everything you need in one convenient place. Whether you need gloves or a neck warmer, find it all right here and be ready for the cold temperatures. When you are out riding in the winter weather, your feet need special gear as well. With socks and footwear made specifically for the unique needs of snowmobiling, make sure your feet are protected and comfortable all riding season long. Riding socks and boots are made with such important features as quick drying material, impressive traction, breathability, waterproof membranes, rubber bottom soles for added comfort while riding, and other thoughtful elements in their design. Choose from several styles and sizes to get the right outcome for your needs.
In addition to the apparel options, we also offer important elements such as riding bags to keep all the essentials in for the long haul. Choose from a range of sizes to get the right bag for your carrying needs. From a helmet case to an elevation backpack, we have it all right here.
In addition to our options for men and women, we also offer a range of kids and teen apparel to make sure riding is safe and comfortable for the entire family this season. This selection of Ski-Doo apparel covers young riders with all the essentials such as helmets, thermal socks, fleeces, high pants, and more to outfit younger riders with the right riding apparel.
Whether shopping for boots, jackets, or helmets, every option in our inventory is a high-quality solution made with your unique needs in mind while riding. From the quality of the material to the standards of the manufacturing, every option meets the highest standards in terms of quality, longevity, comfort, and function. We are confident you will find a reliable solution for your riding apparel needs with our diverse selection of high-quality options at the ready.
We are committed to delivering high quality solutions at affordable prices. We also pride ourselves on delivering an outstanding customer service experience from start to finish with every order. If you have any questions while shopping our expansive inventory, please contact us for further assistance on the matter at hand. Our friendly team is always happy to help in any way.